SELF FAMILY ALBUM
---
SELFS OF YESTERDAY
Page 1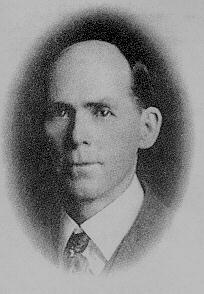 William Andrew Jackson Selph (Apr. 25, 1866-Aug. 8, 1920), son of William W. and Avoline (Loyd) Self of Union County, GA.
Rev. C. C. (Cicero Carson) Self (1854-1926) and family
from The Self Family and Other Related Families, Barry T. Self, typescript, 1990.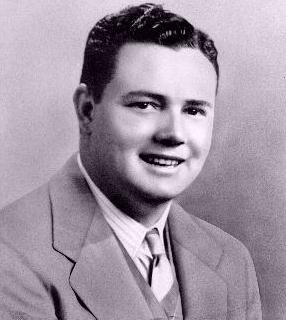 Walker Lambert Self (September 22, 1918-April 4, 1965)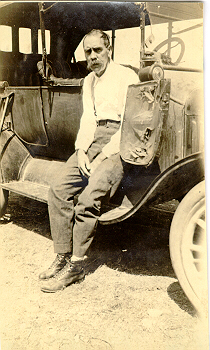 George Washington Self (June 19, 1863-Apr. 14, 1925)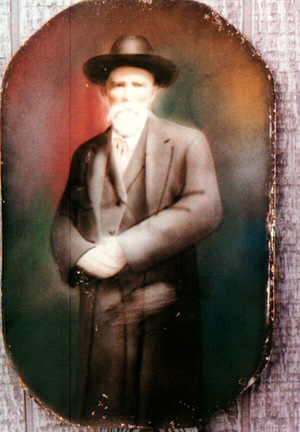 Vinson A. Self (1843-1921)
Ernest Self (1900-1987) and daughter Jan
Son of Thomas William Self and grandson of Vinson A. Self (above)
Contributed by Cousin Kate, Ernest Self's youngest daughter
By way of Cousin Larry who writes: "Photo taken in 1946. This man had an interesting life. He retired from the Navy after 40 years. He married while stationed in Panama to an American."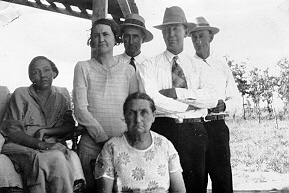 Left to Right Women: Ruby Elizabeth (Self) Campbell (Oct. 14, 1900-Aug. 5, 1991), Jessie Mae Self (July 23, 1886-July 3, 1950), Margaret Ann (Miller) Self (Aug. 23, 1862-Dec. 10, 1939); Men: Charles James Self (June 30, 1894-Mar. 23, 1957), Homer Self (1897-1959), Robert Andrew Self (July 1, 1887-Aug. 2, 1953)
Homer Self (1897-1959), Tim Seawolf-Self, Pamela Self, Lura A. (Walker) Self, (July 20, 1899-Aug. 13, 1983)
William L. ("Lonzo") Self (Nov. 27, 1889-Apr. 9, 1908)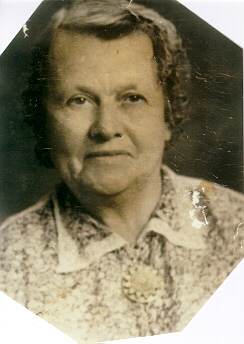 Jennie Self Rhoads Bandy (May 11, 1879 - September 1974)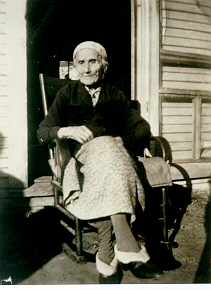 Clare Vanie Melvin Self
---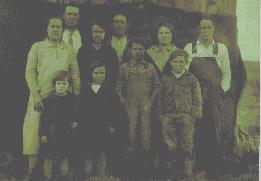 Back row, Left to Right: Arthur Self, Rufus Self, Inas Self, L.C. "Rod" Self; Second row, Left to Right: Annie Morse Self, Diammie Self, Dolph Self, and Virgle Self; Front row, Left to Right, Frankie Self and Audrey Self.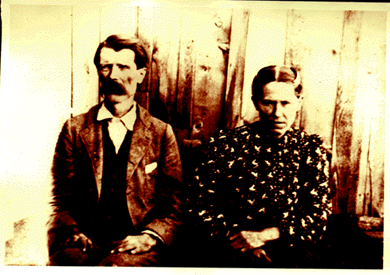 Gilbert Selathian Self (Feb. 14, 1850, Ozark, AR - May 30, 1922, Maysville, OK), son of Levi Self of IL and his wife, Ailsey Louisa Brison (died June 13, 1938 in Maysville, OK), daughter of Eli and Anna Barber Brison of TN.
Loal Self (January 6, 1914-December 1975) and son, Jimmy Steve Self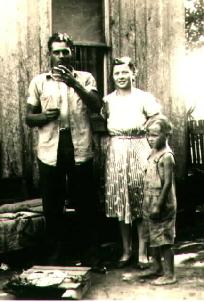 Loal Self and Jimmy Steve Self. The man is believed to be her husband, [unknown] Self
---
Click here to view Welcome
---
Back to Self Portraits
Copyright 1997-2016 Tim Seawolf-Self and Barbara A. Peck, All Rights Reserved
This page was last updated on June 6, 2004