SELF FAMILY ALBUM
---
SELFS OF YESTERDAY
Page 9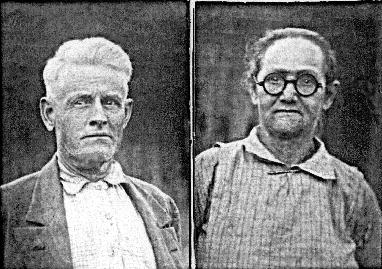 Martin Van Buren Jaggers (1868-1946) and Mary Elizabeth Self (1873-1937)
Contributed by Cousin Doyle (who received them from Cousin Kathy)
Cousin Doyle writes: Martin was known as the "Bird Man" and trained crows to talk. Mary Elizabeth Self was the daughter of George Washington "Fed" Self and Cynthia Ann Webb. "Fed" Self was a minister. George Washington "Fed" Self was born in Warren County, Kentucky, July 1851 and died in 1917. He married Cynthia Ann Webb, daughter of Webster Clay Webb and Ruby Roof, on January 15, 1871 in Edmonson County, Kentucky. His parents were William M. Self (1823-1877) and Margaret E. Davis (1818-Unk.) My grandmother Lillie Anne Jaggers Sanders, kept the dress her mother Mary Elizabeth Self Jaggers died in and when my grandmother died she passed it on to her only surviving daughter, who in turn passed it on to me.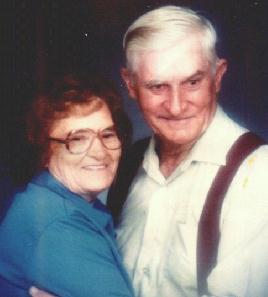 James Washington Self (June 22, 1914 in Cullman County, AL - Jan. 2, 1994 in Tampa, FL) & Euna Lee (Cornelius) (McClendon) Self (June 8, 1914 in Cullman County, AL - Sep. 2, 1992 in Tampa, FL). The photo was taken in Tampa, FL in 1985.
Contributed by Cousin Betty Ann
---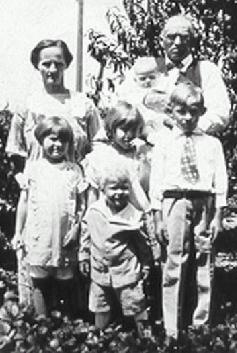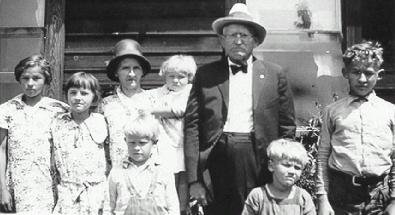 Chesley Self Family
Chesley Sylvanus Self (1861 AL to 1936 CA) and second wife, Josephine Angeline Elizabeth (Henson) Self (1885 to unknown) are part of the Henry Self line. The children are (in no particular order) Ulysses, Pearl, Dyette, Edward, Myrtle, and Jessie. They belong to Chesley's second family, as he already had 10 children by his first wife, Amy Sarah Frances (Tucker) Self (1868-1908)
Contributed by Cousins Dennis, Peggy, and Betty Ann
---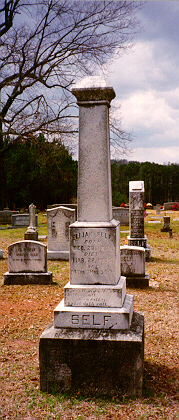 Gravestone of Elijah Self
b. Dec. 31, 1831 d. Mar. 28, 1905
Blount County, AL
Submitted by Cousin Felicia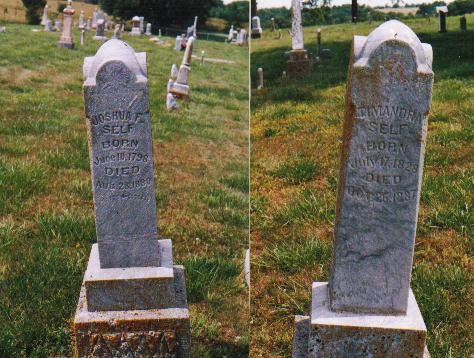 Gravestones of Joshua F. Self (1798-1880) and Trymandia (Rothgeb) Self (1828-1887) of the Missouri (Job) Self line. These Selfs now rest in the New Lebanon Cemetery, Otterville, MO
Submitted by Cousin Phyllis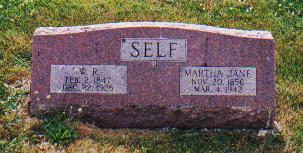 Gravestone of William R. Self (1847-1926), son of John Henry Self and grandson of Joshua F. Self and his first wife, Patsy (Harmon) Self, and wife Martha Jane (maiden name unknown) (1856-1942) Both husband and wife died in Syracuse, MO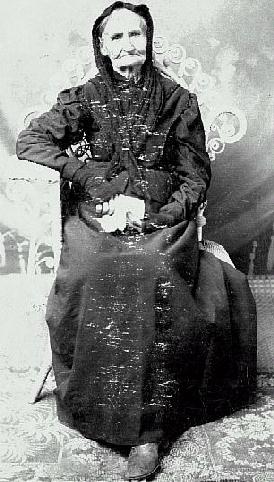 Jane Virginia ("Jenny") Self
Born Nov 1826 Marion Co. AL and died Nov 10, 1910 Freestone Co. TX
Buried Salem Cem Freestone Co. TX parents William B. Self & Mary Elizabeth Burleson
Married: 1. Moses (Wiley) Wilson Burleson 2. Rev. John P. Bond 3. William H. McSwain
Contributed by Cousin Cindy

---
Click here to view Welcome
---
Back to Self Portraits
Copyright 1997-2016 Tim Seawolf-Self and Barbara A. Peck, All Rights Reserved
This page was last updated on June 5, 2004