SELF FAMILY ALBUM
---
SELFS OF YESTERDAY
Page 22
---
AN ARKANSAS "LOOSE END" SELF FAMILY

submitted by Cousin Dan
Background: Will A. Self m. Emma [or Laura] Lee Reddell, b. June 11, 1885 in AR and d. Apr. 19, 1916 in AR, daughter of James Henry and Mollie (Embry) Reddell. These are photos of two of their children, Luther and Ruth.
Luther Self and Ruth Self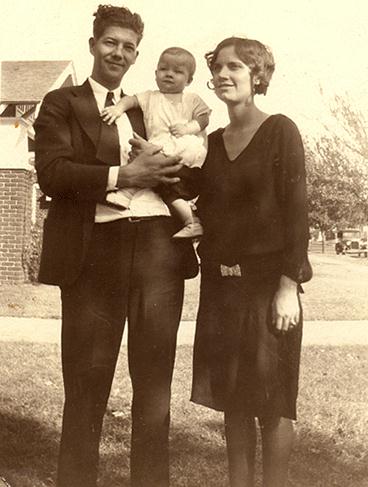 Luther Self, wife (name unknown) and child (name unknown)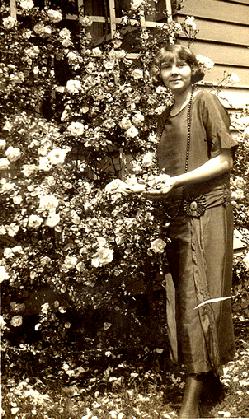 Ruth Self
Ruth Self
Ruth Self and husband
Ruth Self was married three times. One husband is unknown; one was Wayne McCool; and one had the surname of Charlton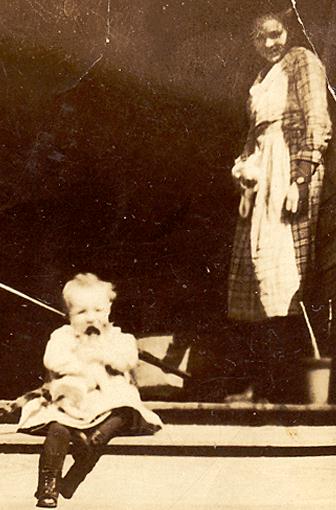 Ruth Self and daughter, Betty (probably child by husband ??? Charlton)
---
SARAH (SELF) JAMES FAMILY
submitted by Cousin Dan
Cousin Dan has another seemingly unrelated "Loose End" family in his tree. Sarah Self, born July 24th, 1847 in Alabama, married Johnathon James, born March 1846 in Alabama and died in 1932. They were the parents of the following children:
William D., b. Aug. 12, 1871

John W., b. Jan. 15, 1872

Henry, b. Aug. 16, 1874

Benjamin A., b. Sep. 7, 1875

James Bowman, b. Jan. 14, 1875

Margaret E., b. Feb. 17, 1878

Green James, b. about 1879

Delmetee M., b. Oct. 7, 1884

Emma E., b. Oct. 14, 1888
Sarah died in 1932. Her mother's name was Susanna. This record was obtained from the 1880 census in Cullman Co., Alabama by a relative of my mother. Sarah married Cousin Dan's mother's grandfather, Johnathan James, who was born March 19, 1846 in Alabama. She is sitting as the matriarch surrounded by her son (possibly Ben) and his family.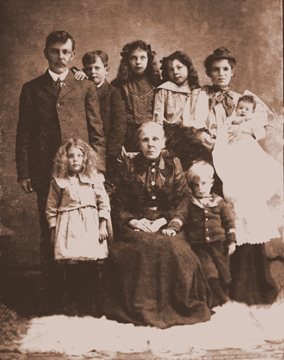 ---
We'd like any help with the ancestry of these families
---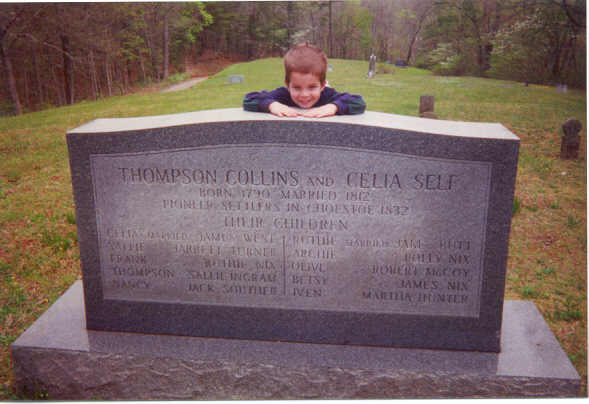 Gravestone of Thompson and Celia (Self) Collins
contributed by Cousin Lisa
Celia is from the Stephen Self line, through to Francis Self and son Job Self of Union County, GA
Celia Self was also Tim's 4th great aunt
Cousin Lisa writes: "This attached picture was taken 6/2000, in Choestoe, Union County, GA at the Old Choestoe Cemtery. The tombstone was placed there around 1995, by the family of James Alonzo (Lon) Turner. gggrandchildren of Celia Self. The old stones were gone or were never placed in the cemetery. The little boy in the picture is my son, William Benjamin Akins, the 6th greatgrand child of Celia's, through two of her daughters."

---
Click here to view Welcome
---
Back to Self Portraits
Copyright 1997-2016 Tim Seawolf-Self and Barbara A. Peck, All Rights Reserved
This page was last updated on June 5, 2004