SELF FAMILY ALBUM
---
SELFS OF YESTERDAY
Page 26
---
TOMBSTONE PHOTOS
photographed by John V. Collins and contributed by Cousin Sandy
---
From the Alamo City Cemetery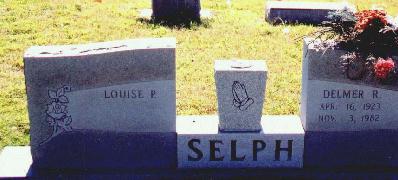 Delmer R. Selph, b. Apr. 16, 1923 and died Nov. 3, 1982
If you can identify his Selph line, or any individual named on this page, please contact Webmaster
O. R. ("Joe") Selph (Dec. 10, 1893 - Sep. 4, 1960) and wife
Sallie Bell Selph (June 11, 1899 - May 16, 1982)
Married Nov. 15, 1919
The 2 photos above were taken in the Alamo City Cemetery, Alamo, Crockett Co., TN. This cemetery is located in Alamo on South Branch St. between West Park and West Vine Streets.
---
From the Zion Hill Baptist Church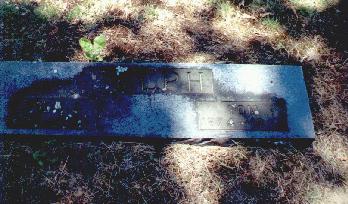 John V. Collins writes: "This tombstone was covered in moss and algae. I tried to lighten it the best I could, but just couldn't get it legible. Although if you look very close you will be able to make out a couple of the letters in Rosie's name. I have listed the engravings below according to a survey posted on the Crockett Co., TN, web page.
SELPH ROSIE E. 1886 - 1955 TOM 1874 - 19___ "
The photographer writes: "I was standing in the cemetery basically at one of the Selph grave sites when I took the photo of the church. As you can see from this photo, and it doesn't do the church justice, the grounds and church are well kept. The surrounding area is beautiful rolling hill country. The cemetery is directly across the street from the church. Also note on the sign that the church was established in 1892. This was taken standing almost in front of the arched window in the church. Also note on the church sign that the church was established in 1892. On the left of the cemetery photo you will notice a bench. Starting just to the right of this bench and continuing to the right are 3 Selph markers, 5 graves total."
---
John V. Collins: "The small metal funeral home style marker is for James Selph, born 2/6/1914 and died 8/28/1986. Although it illegible in the photo, I was able to make out the name by looking at an angle and casting a shadow on it. There is no doubt it is for James."
"This photo just gives shows you how the grave sites are laid out. Left to right they are Tom and Rosie E., Nathan and Rosa Lee and then James." The pink object near the stone in the sunlight is an arrangement of flowers that spells out "MOM."
---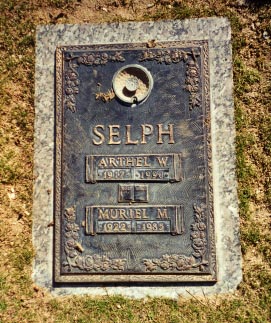 Tombstone of Arthel Wilburton Selph (1917-1990)
and his wife, Muriel Mavis Carpenter-Selph (1922-1985)
Hillcrest Memorial Park, Bakersfield, Kern County, CA
Contributed by Cousin Sandy
---
SELF TRIPLETS
contributed by Larry Brown
Charlene, Darlene and Berthalene Self at about at about three years old.
They are daughters of Robert Hoyt and Bertha Wilma (Garrison) Self of Morgan County, AL
---
SELF REUNION
Family of Job and Tamer (Stringfellow) Self
1948, Castor Lake, LA
contributed by Cousin Dan
---
Susan B. ("Susie") Self (1873 - ) and husband, William F. Westerhold
Vernon County, MO
contributed by Cousin Troy
---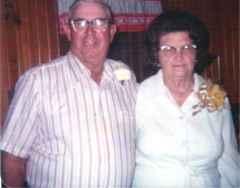 Daniel Whitten Self (1907 - )
and wife, Pearl
He was known as "D. W.," "Pocket," and "Big Daddy" Self
He was the son of John Reuben Self of Tippah County, MS., grandson of Reuben Self, and great grandson of
Pleasant Ware Self of the Alabama Isaac Self line
contributed by Cousin Pam
---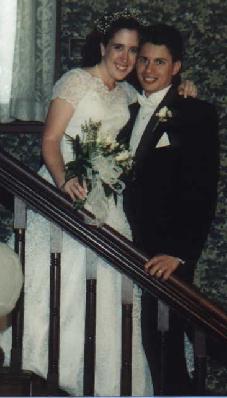 Craig and Michele "Laurie" Sensano
Laurie writes: " I am descended from Eli Self b. 1790 in NC or SC, married Sarah Fletcher, son was Erby, daughter was my Great-Grandmother, Effie Jane "Self" Guthrie. [This photo was t]aken October 13, 2001 at the Meux Home Museum in Fresno, CA. (They Museum was built in 1888 and I used to docent there.)
---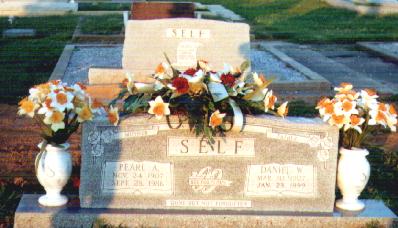 Contributed by Cousin Pam
In the foreground: Pearl. A Self Daniel Whitten Self (her grandparents)
Background: Lottie Orean Self Doyle Edward Self
Both graves located in Denison Cemetery, Idabel, Okla. Daniel Whitten (Pocket) and Doyle Edward are the sons of John Reuben and Sara Etta (Hall) Self.
---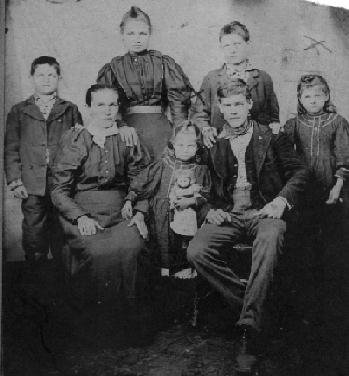 THE FAMILY OF J. B. [James Buchanan] SELF
Contributed by Cousin Dixie

She writes: "Standing l to r: Reuben J. Self, Delia I Della (my grandmother) Self, Samuel Self, Lelah Self. Seated l to r: Martha Ann Bean Self, Millie Self, James B. Self. This picture was taken at Council Hill, Oklahoma abt. 1900. I was told the individuals names however, the picture of James B. Self sure looks very young to me. If anyone can give me other information I would appreciate hearing from them."
This family is part of the John and Baxter Self line--J. B. Self is a descendant of John Self through his son, Samuel C. Self
---
Click here to view Welcome
---
Back to Self Portraits
Copyright 1997-2016 Tim Seawolf-Self and Barbara A. Peck, All Rights Reserved
This page was last updated on June 6, 2004