SELF FAMILY ALBUM
---
SELFS OF YESTERDAY
Page 6
L-R Ernest Edgar Self (1881-1961), Joseph Nelson Self (1850-1920), Bessie Belle Self (1885-1948), Edith May Self (1880-1972), Amelia Elizabeth Self, baby Ervin Harrison Self (1888-1974)
Photo taken in 1889, submitted by Cousin Norma
Children (some above) now grown, L-R William Elbert Self (1896-1980), Bessie Belle (Self) Brooks (1885-1948), Ervin Harrison Self (1888-1974), Edith May (Self) Case (1880-1972), Ernest Edgar Self (1881-1961)
submitted by Cousin Norma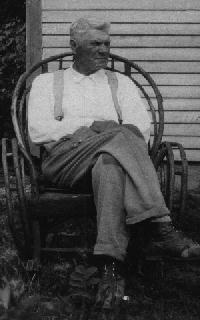 Joseph Nelson Self (1850-1920), taken approximately 1915
Submitted by Cousin Norma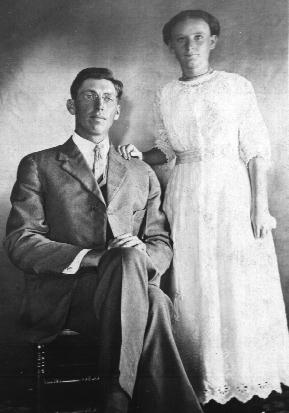 Ervin Harrison Self (1888-1974), son of Joseph Nelson Self, and his bride, Luella Belle Guest, on their wedding day, May 9, 1913. Submitted by Cousin Norma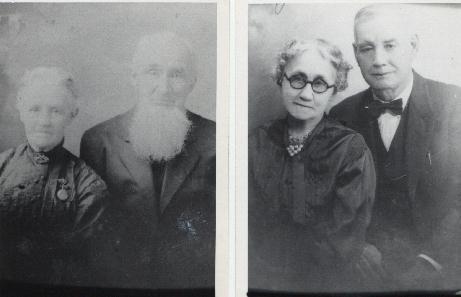 Does anyone recognize these couples?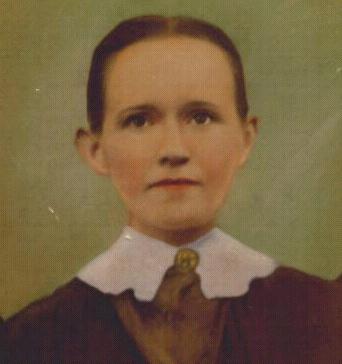 Amanda (Self) Sasser (Mar. 20, 1871 - Sep. 12, 1914), wife of John Wesley Sasser and daughter of Samuel Edward and Mary S. (Clark) Self
Contributed by Cousin Karen
---
---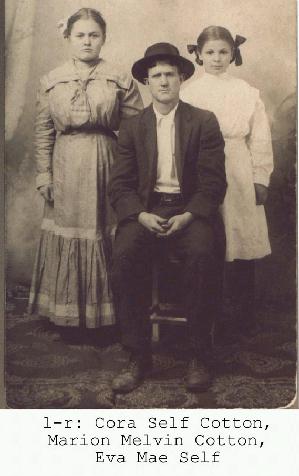 Eva Mae Self [4 May 1899-30 Jun 1966] who later married 23 Sep 1914, Walter Parham McCombs [5 Apr 1895-24 Feb 1972]; her sister, Cora Self Cotton[23 Jan 1894-09 Sep 1975]; Marion Melvin Cotton[15 Apr 1885-15 Oct 1976]. The picture is said to have been made about the time Cora and Melvin married, which was 13 Aug 1910. The locations for all dates given is Jefferson Co., AL.
Contributed by Cousin Melba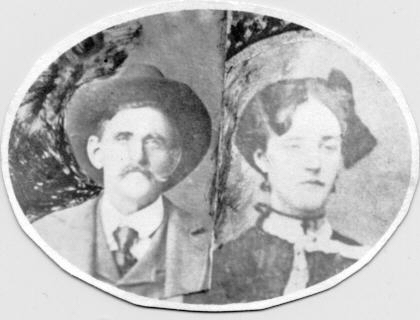 Sarah N. (Self) Corle, born Jan. 24, 1854 in Hocking County, OH and died Mar. 18, 1887 in Stafford County, KS., and her husband, William B. Corle
Contributed by Cousin Marilyn
This is an old photo of Calvin Asbury Self born 8 Feb 1879 died 21 June 1964 and his wife Mary Logan Self born 30 Jan 1878 died 18 May 1960. It's very faded and the "V" that looks like a chain linking them together is a scratch.
Contributed by Cousin Stephanie
---
Click here to view Welcome
---
Back to Self Portraits
Copyright 1997-2016 Tim Seawolf-Self and Barbara A. Peck, All Rights Reserved
This page was last updated on June 5, 2004