SELF FAMILY ALBUM
---
SELFS OF YESTERDAY
Page 7
Grace Edna (Miller) Self and Edward Henry Self (Nov. 29, 1903 - May 18, 1971)
Submitted by Cousin Ed
Edward Thomas Self (Mar. 27, 1881-July 31, 1929)
Submitted by Cousin Ed
Rosalie Self, b: May 6, 1902 at Alexandria, Rapids Parish, LA, d: Mar 28, 1991 at Waco, TX, bur: Oakwood Cem, Waco, TX, dau of David Walker Self and Elizabeth Deliah Hays: m: Adam Fontenot, b: Aug 14, 1894 at Chataignier, LA, d: Jan 14, 1943 at Kingsville, TX, bur: Chataignier Baptist Cem, Chataignier, LA, m: Common-In-Law Marriage State of Texas abt 1935: Children of this union: James Thomas Fontenot Tanner and Harold Jean Fontenot Tanner.
Submitted by Cousin Harold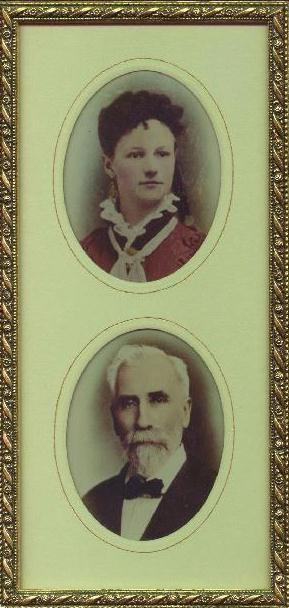 Submitted by Cousin Evelyn who writes:
This picture is of my grandparents, Lourena Anna SELF/SELPH and Franklin Alonzo DUNBAR. Lourena was born in Stewart Co., TN on 19 Mar 1849. She is listed on the 1850 Stewart Co. census as Luraney. Her parents listed are Henry SELF and Elizabeth TAYLOR. I know that Henry B. SELF, SR. was found in Ballard Co., KY in the 1860 census but what happened to his wife Elizabeth. Where did she die and in what year? Franklin served in the Civil War and from his records he served in Kentucky and Tennessee during the war. I found Franklin in Christian Co., KY in the 1870 census which is north of Stewart Co. so I assume Franklin and Lourina must have met around that area. They were married in 1874 in Alton, IL. They are both buried in Kirkwood, Missouri. Lourena died in 1900 and Franklin in 1913. My father John L. DUNBAR was the youngest of their six children. I was informed that Robert SELPH born in Stewart Co., was Lourena's brother. On the death certificate of Bertha SELPH Higgs, it states that Robert was Bertha's father and she was born in Stewart Co. Bertha died in Illinois. Where were Henry B. SELF, SR. and Elizabeth TAYLOR born ? Wishing someone can help.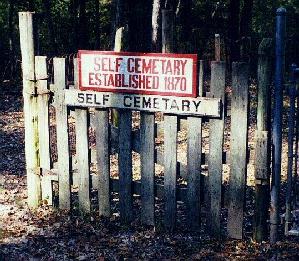 Self Family Cemetery South of Florien, Sabine Parish, LA
Contributed by Cousin Harold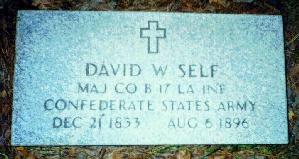 Grave Marker of D. W. Self
Contributed by Cousin Harold
---
Amanda Melvina Lewis Self (BIG MAM) Was the oldest child of Sarah Wininger and Thomas Lewis. She was born in 1841, and died 12-25-1913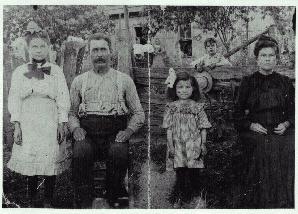 George Franklin and Cynthia (Wininger) Self George was born 6-4-1870 d. 4-4-1934. Cynthia b. 4-2-1879 d. 4-21-1922. Children: Rollie Glenis (my father) b. 1-4-1919, George Everrett b. 7-24-1916, Harold Desco b. 7-26-1913, Ruby Opal b. 1-21-1911, Ida Olive, Amanda Ellen, Joseph Franklin b. 9-5-1899, Hattie Mae b. 8-22-1896, James Thomas b. 5-20-1905, Samuel Kenneth b. 4-16-1922 d. 4-29-1922 (only lived 8days after his mothers death. It was said that he wouldn't eat.)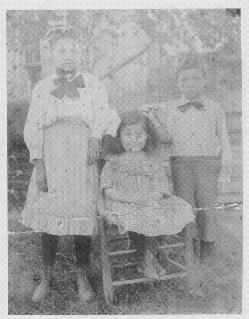 Hattie Mae (8-22-96), Amanda Ellen ("Ellie"), and Joseph Franklin ("Joe") Self (9-5-99).
George Everrett (7-24-16), Rollie Glenis ("Glen") (1-4-19), and Harold Desco Self (7-26-13). Photo taken Spring of 1922
---
Click here to view Welcome
---
Back to Self Portraits
Copyright 1997-2016 Tim Seawolf-Self and Barbara A. Peck, All Rights Reserved
This page was last updated on May 25, 2004