SELF FAMILY ALBUM
---
SELFS OF YESTERDAY
Page 24
---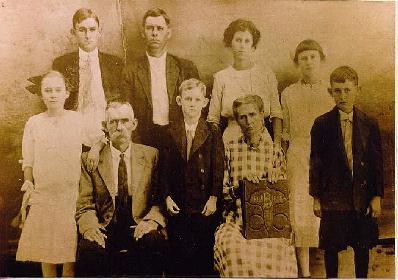 Jesse Selph Family
contributed by Cousin Anita and Cousin Robert
Back Row: From Left to Right--George Washington Selph (1899-1970), Frank Selph (1885-1945), Mary Letty (Selph) Price (30 June 1896 - 23 June 1971), Myrtle Fannie Selph
Front Row: From Left to Right--Bessie Mae Selph (1904 - ), Jesse E. Brown Selph (1859-1931), Hollis Selph, Amanda Lou Ann (Keeling) Selph (1868-1916), Albert Selph
Although this family lived in Tennessee, father Jesse was born in AL. We are hoping someone can identify the Self Branch to which this family belongs.
Walnut Grove Cemetery, Trenton, Gibson County, TN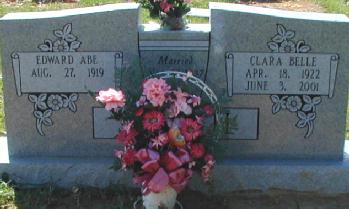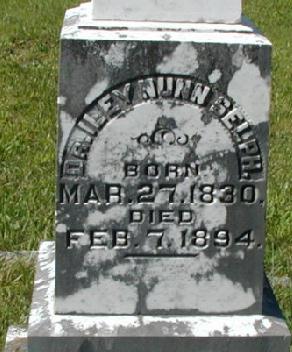 Tombstone of Edward Abe Selph Tombstone of Iley Nunn Selph
(Aug. 27, 1919 - May 6, 2000) (Mar. 27, 1830 - Feb. 7, 1894)
and his wife, Clara Belle (Snodgrass) Selph Son of Peter Smith and Molly (Moss) Selph
(Apr 18, 1922 - June 3, 2001) While this Selph is not known to be related to
son of Frank and Aulsie Selph Cousin Anita, his stone is also in the Clifton
This tombstone is in the Clifton Cemetery, Wayne County, TN County Cemetery in Wayne County, TN
" It is a huge stone in a walled off area of 4 stones"
Selph reunion, Yorkville Tenn city park, June 9 2002
See more photos of the Jesse Selph family on page 30
---
Old Church (now unused) in Choestoe, Union County, GA
contributed by Cousin Virginia
---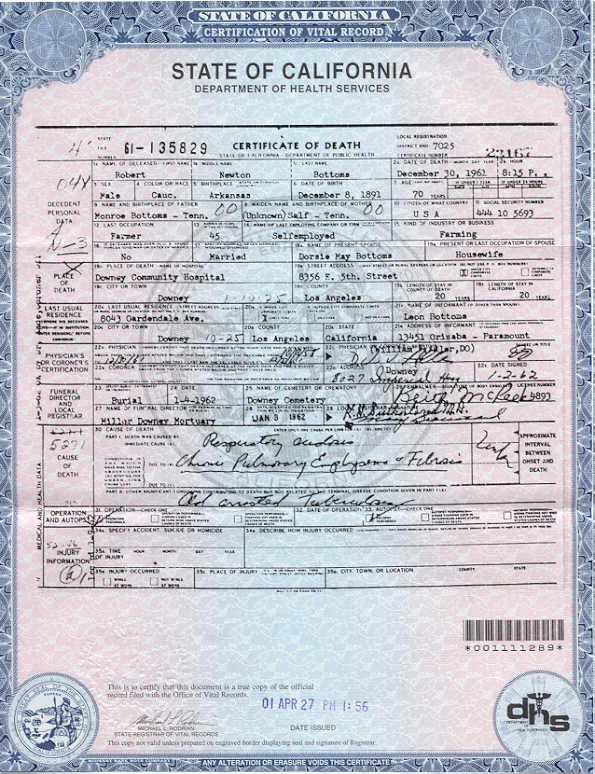 Death Certificate of Robert Newton Bottoms
(Dec. 8, 1891 - Dec. 30, 1961)
son of Fletcher Monroe and Emma Jane (Self) Bottoms
of the Jesse and Mary (Narramore) Self line
Contributed by Cousin Carol
---

ANDREW ANDERSON SELF FAMILY
contributed by Cousin Becky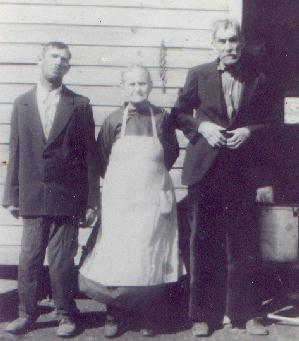 Grandpa, Grandma, and Tom Self
Right to Left
Grandpa: Andrew Anderson Self (b. May 26, 1851 in Newton County, AR)
Grandma: Melvina Martha (Hood) Self (b. Mar. 24, 1860 in MS)
Tom: Thomas Jefferson Self (b. July 23, 1888)
The family went to McIntosh County, OK
Grandpa is the son of Andrew Anderson Jackson Self and wife Matilda (Dalton) Self
and grandson of Eli[jah] and Sarah (possibly Fletcher) Self
Grandma and Grandpa had 10 children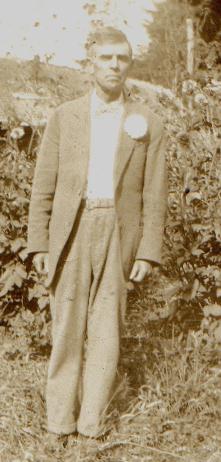 George Criss
Father of Bell Irene (Criss) Self, wife of Gabriel Self (1878 - )
Gabriel is the son of Andrew Anderson and Melvina Martha (Hood) Self (above)


Ellen B. Self (1895 - )
Daughter of Andrew Anderson and Melvina Martha (Hood) Self
The man in the photo is her second husband, Albert Wilburn
Her first husband was Harvey Rushing
---
ARKANSAS SELFS
contributed by Cousin Robin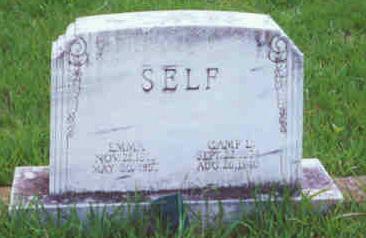 Camp L. and Emma (MURRAY) SELF's headstone at Pleasant Grove Cemetery in Jonesboro, AR
The dates on the stone:
Emma b. 21 Nov 1875 d. 30 May 1957
Camp L. b. 22 Sep 1874 d. 20 Aug 1940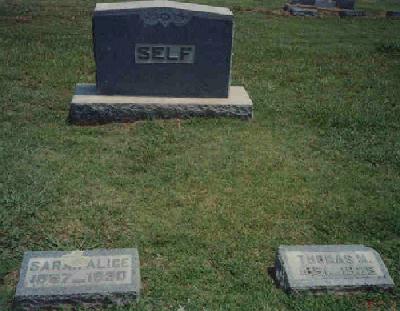 Headstone of Thomas M. and Sarah Alice (STEPHENS) SELF. They are buried in Jonesboro, AR
Sarah Alice 1857-1930
Thomas M. 1851-1926
Thomas Melon Self was the son of Noble Johnson Self of the Presley Self line
---
William Thomas Self (1854-1927) and Mary Frances (Herndon) Self (1860-1946)
Which Self line do they belong to?
Contributed by Cousin Robbie
Read his query
---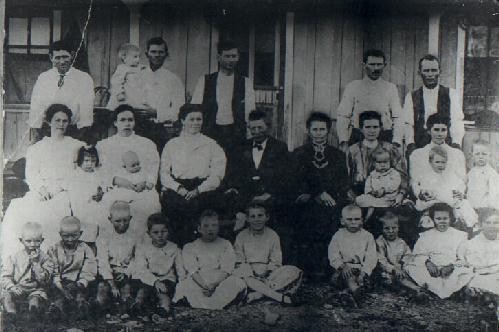 Some Descendants of Isaac and Mary (Dearman) Self of the Presley and Amy (Gunter) Self Line
through his son, Marcus Deroney Self
This branch lived primarily in Throckmorton County/Potter County, TX
Photo taken about 1910
Contributed by Cousin Hazel
TOP ROW (L-R): Robert Patton ("Bob") Self (1882-1967); Charles Price Self (1879-1954) holding his son, Marvin Elsworth Self (1908-1991); Callie Birdwell Self (1876-1928); George Thomas Johnson (husband of Linnie Elizabeth Self); Charles Garnett Wheeler (1877-1972), husband of Clara Maude Self.
SECOND ROW (L-R): Ida Jane (Blacksher) Self (1880-1945), wife of Robert Patton Self; Minnie Lee Self (1907- ), daughter of Charles Price Self; Virgie (Camp) Self (1883-1978), wife of Charles Price Self, holding their son, Charles Edward Self (1910 - ); Belle (Tharp) Self (1875-1970), wife of Callie Birdwell Self; Marcus Deroney Self (1848-1936); Rachel Emma (Simmons) Self (1854 - ), wife of Marcus Deroney Self; Linnie Elizabeth (Self) Johnson (1874-1935) holding Clyde E. Johnson (1908 - ); Clara Maude (Self) Wheeler (1884-1979), holding her daughter Velma Linnie Self (1908 - 1929); Raymond Clyde ("Jack") Wheeler (1906-1993)
BOTTOM ROW (L-R): George Truett Self (1905-1996); Wilbur Marcus ("Pete") Self (1904-1979); Carl Virgil Self (1901-1994); M.D. Self (1905-1955); Fern Self (1899 - ); Ferol Allen Self (1899 - 1998); Lloyd Thomas Johnson (1903-1967); Floyd M. Johnson (1906 - ); Willie M. Johnson (1899 - ); Buna M. Johnson (1900 - 1913)
---
Click here to view Welcome
---
Back to Self Portraits
Copyright 1997-2016 Tim Seawolf-Self and Barbara A. Peck, All Rights Reserved
This page was last updated on June 5, 2004