SELF FAMILY ALBUM
---
SELFS OF YESTERDAY
Page 27
---
PHOTOS FROM THE ISAAC SELF LINE
contributed by Cousin Pam
Margie Self Ross, 1949
Daughter of D. W. and Pearl Self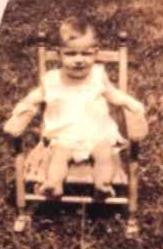 Margie Self, taken probably in 1929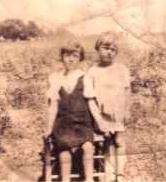 Audra and Margie Self, Daughters of D.W. ("Pocket") and Pearl Self. Taken sometime in the mid 1930's.
Pam's great grandparents- John Reuben and Sara Etta (Hall) Self
not sure of the picture's date
---
PAGE FROM LITTLEBERRY ("TINKER") SELF'S BIBLE
contributed by Cousin Carol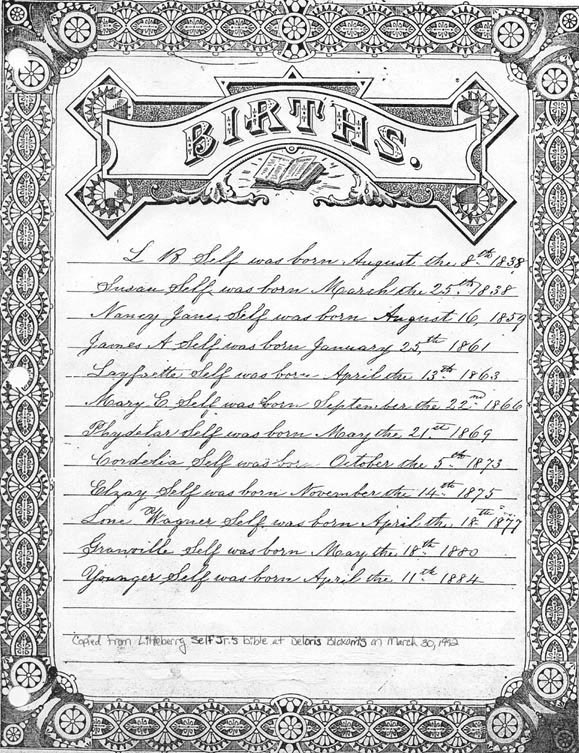 ---
FAMILY OF JAMES HUDSON SELF
Vernon Parish, Louisiana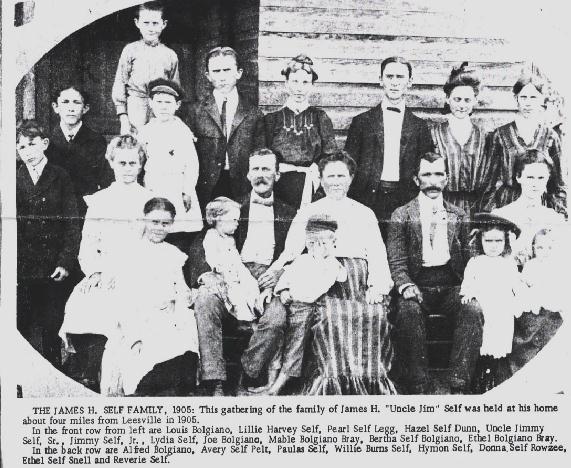 Contributed by Cousin Leatha and Erbon W. Wise
Reprinted from Tall Pines II, The Story of Vernon Parish, Louisiana, 1971, by General Erbon W. Wise
with permission from the author
James H. is James Hudson Self (b. 1851)
---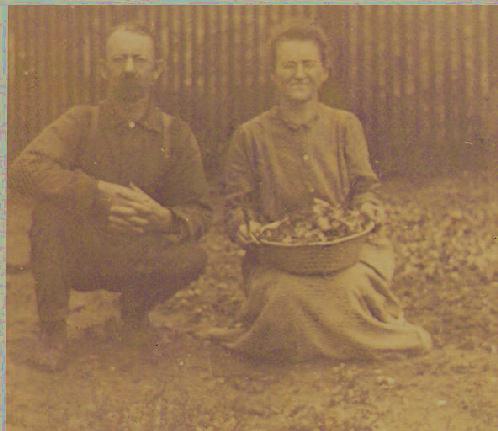 William Osborn and Mary Elizabeth (Warren) Self
contributed by Cousin Sharon

Cousin Sharon writes: "[This] is a picture of my grandfather William Osborn Self born 1863 in Perry Co., Missouri [and] his spouse Mary Elizabeth Warren born Sept 1872 Perry Co., Missouri. His father I believe was Hezekiah Self born Abt. 1832. He married Jane Calwell Walker. There children where are follows: Martha CordeliaSelf born abt. 1861 married John A. Morrison Perry Co., MO; Francis M. Self born Abt 1861 (twins) married Annie C. Sandlin Perry Co., MO; William Osborn Self married Mary Elizabeth Warren Perry Co., MO; also I believe another son James I. Self born Abt. 1866. Also living in Perry Co., Missouri during the civil was was a E. H. Self. I have not been able to find him in the census, but there was a Civil War List that listed people that had bounty's on their heads, named them as sympathizer, and some they wanted killed. At this point in time I do not have any proof, but believe that Hezekiah and his family may have lived in Illinois, possible Perry Co., Ill."
---
Click here to view Welcome
---
Back to Self Portraits
Copyright 1997-2016 Tim Seawolf-Self and Barbara A. Peck, All Rights Reserved
This page was last updated on June 6, 2004