PAUL SELF'S VISIT
by JoLynn Self




c2007 JoLynn Self

This is Paul Self he was born Aug. 28, 1957 in Anaheim, Orange County, California to Charles Harvey & Anna Christine Gioia Self. Charles & Anna were married in St. Stephens Church on Hanover Street in Boston's Historical North End (Catholic Church) on Oct 22, 1932. Paul is one of four Self children to this union. His siblings include Charles (Chuck) Wayne Self, Mark Steven Self, Angelo Gioia Self. Around 1962 the family moved back to Anna's home state Ma.

Paul's grandfather Harvey Elliott Self was born Apr 19 1894 in Long Creek, Hugo, Choctaw County, Oklahoma. Harvey married Jun 13 1914 in Forney, Choctaw County, Oklahoma to Ruby (Edna) Jo Myrick. They had six children to this union, Anne (Annie) Laura Self Jenner (1918-1991), Thomas Elmo Self (1920-1984), Sidney Polo Self (1922-1998), Edna Jo Self McClintock (1925-1973), Lavinia "BeanBe" Self, and Charles Harvey Self (1933-1989). Harvey died Sep 16 1974 in Mt. Mesa Dist., Lake Isabella, Kern County, California @ 5:45 A.M. in the Kern Valley Hospital. Harvey is buried in Shafter Memorial Park, Kern County, California.

On April 24, 2004 Paul found my online data base "Our Family Roots" http://worldconnect.rootsweb.ancestry.com/cgi-bin/igm.cgi?db=self at rootsweb.com. Paul and I (JoLynn Self) has since been exchanging information and staying in contact with each other.
Just this past month Paul has sold his beautiful home in Ma. for better job opportunities and a change of scenery in Arizona. His big detour was in Choctaw County, Oklahoma were his grandfather Harvey E. Self was born. Paul stayed with his second cousins Jack and JoLynn Self that he has finally meet for the first time.

Paul arrived on July 1, 2007. First outing JoLynn took him to meet Jack at his work in town at the Kiamichi Rail Road.
JoLynn then took him to see all of the old family home places and family cemeteries in the area.
He really took interest in were his grandfathers land used to be which was one of the original Indian land allotments.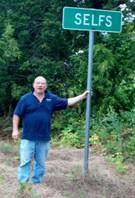 On July 2nd we took him to Selfs, Texas were he got to visit New
Salem Cemetery were his third great grandfather and grandmother Abraham Pinckney and Lucinda Dubois Self are buried. He also got to see the historical monuments at New Salem Cemetery & Shiloh Cemetery.
Paul and Jack standing by the monument at Shiloh Cemetery.









Back to Self Portraits
Go to page 2 of this article
Go to page 3 of this article